So, who doesn't love golfing? Well, actually me I'm not really a golfer
but I will tell you I do get asked quite often, where can I go golfing around Quantico, Virginia. So in this video I'm going to talk about four
great places where you could possibly go golfing. Hi, I'm Ginger Walker, the team lead of Give
Back Team of Coldwell Banker Elite. And welcome to this episode of give, work, play,
where each week we explore different neighborhoods and things to do around the Northern Virginia
area. And if you're new to the area, be sure to
explore all of my videos right here on this channel, because I do talk about all different
places to not only live but things to do on the weekends or with your spare time.
So I know I say it a lot in these videos,
but you are going to want to stay tuned to the end of this one, because I am going to
give you a tip or maybe three on where some of the best 19th holes are in and around the
Quantico area. Whether you're a serious golfer, a social
golfer or just getting started. There's going to be a golf course just for
you right around the Quantico area.
Golf Course Number one is called the Medal
of Honor, named in memory of Marines who have been awarded the nation's highest honor. The Medal of Honor golf course is proud to
be the premier golf course for the Marine Corps. The Medal of Honor golf course, is an 18 hole
championship golf course, located right on the Marine Corps Base in Quantico. It is open to all base eligible personnel
as well as the general public. And they offer a gorgeous practice facility
with a short game area. And they also offer a practice green side
bunker, not really sure what that is, but they have it there. And they also have a large putting green and
a fully lit driving range. But Ginger, what if it's raining or it's wintertime
outside? I'm glad you asked that question. They actually have an inside golf simulator. So really, you could play at any time of the
year. Enjoy the Marine Corps heritage of this legendary
golf course and play for the history, the heroes and for the tradition. The second golf course is Augustine, which
happens to be the name of the community it actually sits in and where is it located in
Stafford, Virginia.
Now let me tell you, a legendary game awaits
you at Augustine Golf Club, a 6817 yard par 71. course designed by Rick Jacobson, is a highly
coveted course that has four and a half star rating from Golf Digest. It's also among the top 100 golf courses that
you want to play. And it's ranked by Golf magazine club features
a driving range pro shop, kids camps lessons, as well as hosting numerous tournaments and
scrambles. I think I probably know what about half of
those things actually mean, but Augustine Golf Club has them all, and probably a little
bit more.
Let's talk about golf course. Number three, Aquia Harbor. No, it's not called the Aquea. It's called Aquia. Aquia Harbor is also not only a golf course,
but also a community and it's one of the best kept secrets right here in Stafford, Virginia
is a beautifully developed and well maintained golf course with nine holes and alternate
tees, where you can change the pin placement for the back nine holes, which creates an
18 hole challenging and interesting round of golf and Aquia Harbor Golf Club You can enjoy a country club golfing at public
pricing.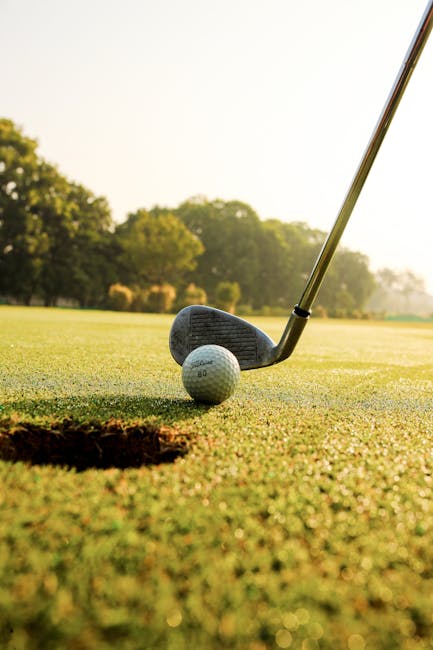 The course includes a comprehensive practice
facility, a driving range, putting and chipping green, which I'm not even sure what a chipping
green is. I thought you did that with wood but I guess
you do it with golf and also PGA instruction. Our fourth but not final golf course is Potomac
shores. And just a few miles north of Quantico is
the Potomac Shores Golf Club. It is the only publicly accessible Jack Nicklaus
signature designed in Northern Virginia Golf Digest actually named it the top 10 best new
courses in the country.
Jack Nicklaus Design courses are always challenging; so I've been told by people who know way more
about golf than me, but this one worthwhile to play. And especially because this 18 hole course
sits right along the picturesque Potomac River. It's got dramatic VISTAs, wetland buffers,
and showstopping elevation changes. So should you add this one to the list? From what I've been told?
It's a definite yes. Okay. So now where you probably find me playing
golf is not really the ones we're talking about right now. It would be the kind that's called putt putt
golf. And there's a great one. It's up in Chantilly, and it's called Monster
golf.
That's where you're gonna find this girl. If I'm playing golf. Sorry, everyone. I probably wouldn't be a good fourth or fifth
for your next game. I hope this video gave you a little bit of
insight into some of the golf courses around the Quantico area. And I will tell you, there's some amazing
private golf courses that you could also look to joining. And if you've played any of these courses,
comment below on your thoughts or recommendations of where maybe someone new to the area might
want to explore.
As promised at the beginning of this video,
I was going to tell you about some of the popular 19th holes. And let's be honest, I would probably be there
not only from the 19th hole, but from the first one through the 19th. So I'll meet you there when you're done, and
one of the most popular places to go. If you're north of Quantico in Woodbridge. You might find me at the Beer Republic Works. It's a great place for some local brews, as
well as the waters end brewery in Potomac Mills.
Now, if you're down around the Stafford area,
there's Barley Naked Adventure Brewing and in Fredericksburg, just outside of Stafford
is Six Bears and a Goat. Those are some of the great local spots for
the 19th hole drink that you now deserve. After playing 18 holes. We help people move to the Northern Virginia,
Quantico Fredericksburg area every single day. And I would love the opportunity to help you. So if you have any questions about our area,
some of the local golf courses or even those 19 poles, feel free to send me a message or
drop a comment below. I'm happy to help however I can. I'm Ginger Walker, the team lead of Give Back
Team over at Coldwell Banker Elite, thanks so much for watching..